Titan Premium Finishes
Boosted by Polycharger™
Our brands are proven to provide long term protection. all guaranteed to outshine and outlast any product you've used on your vehicle. Made in the USA, Titan Premium Finishes ensures that we are offering you the most technologically advanced and safe products on the market. As car enthusiast ourselves, we found the most brilliant chemists to create products that actually do as they say! Products made for people who want the best available! Welcome to Titan Premium Finishes.
Let's face it, not everyone wants to spend an entire afternoon washing and waxing their vehicles. Titan Premium Finishes helps you attain a long lasting professional shine in a fraction of the time! Maximize your vehicle's appearance and save time by doing the job right the first time!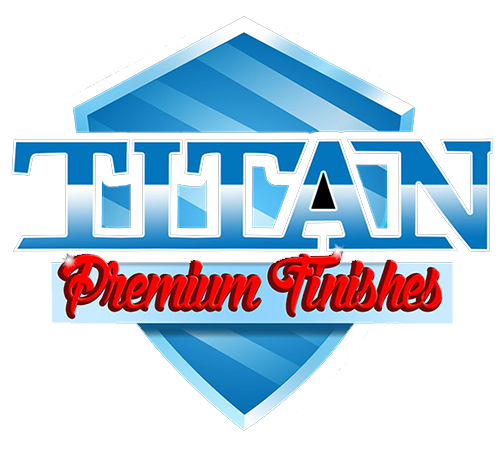 Titan Premium Finishes Waterless Wash
Boosted by Polycharger™

Easily and safely cleans painted surfaces, chrome, plastic, glass and wheels without the use of water. No hoses! No rinsing! No drying! This "Boosted by Polycharger™" formula not only cleans your vehicle's surfaces, it protects them from the harsh elements and harmful UV rays. It maintains the shine of your vehicle by removing light road grime, bugs, water spots, fingerprints, and bird droppings. Meanwhile, it deposits a layer of clear protection to boost your existing paint protection. It's quick, it's easy, and your vehicle will look freshly detailed. Use as needed to remove unsightly bird droppings and insect remains before they cause paint damage
Titan Premium Finishes Waterless Wash is packaged in a ready-to-use trigger spray bottle. Starting with the upper panels, spray your vehicle and use a soft, folded microfiber towel to wipe in a back and forth motion. Refold and replace the towel as needed..
Titan Premium Finishes Spray Wax
Boosted by Polycharger™

A new spray on paint sealant. It is a water- based versatile spray detailer that is appropriate for every surface of your automobile except textiles (carpet and fabric). Use daily to maintain a just detailed appearance. Titan Premium Finishes Detail Spray Plus works on paint, glass, chrome, vinyl, plastic and leather. When you don't have time to wax, just spray and wipe! Polymer formula that produces a durable, protective shield on all types of paint finishes. Our spray wax is a mist-and-wipe spray detailer that offers an easy solution to regular car appearance care that also offers you protection for your ride.